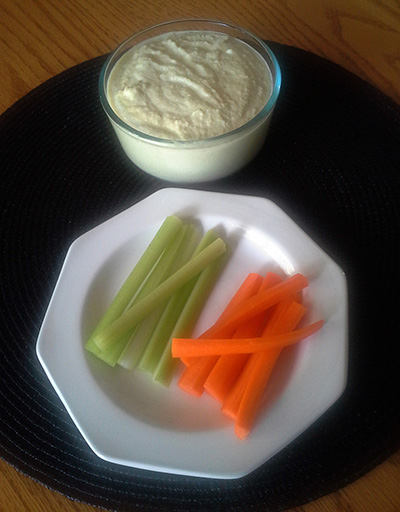 Zucchini Hummus
2 large  zucchini peeled, sliced, 3 cups *
¼ cup  raw tahini
3 tbsp.  fresh lemon juice
1 clove  crushed garlic (1/4 tsp. garlic powder)
¼ tsp.  ground cumin
¼ tsp.  paprika
½ tsp.  sea salt
• * Sweat the zucchini first.  Slice, sprinkle lightly with sea salt.  Layer with paper towels and place a plate or something heavier as a weight to help release the extra water for about 30 minutes.
• Place all the ingredients into a food processor.  Process until smooth.
• Store in a mason jar in the refrigerator.  Keeps 5-7 days.
• Serve with veggies, flax crackers, on your favorite veggie burgers, etc.  Also great as a salad dressing, thin with purified water if too thick.