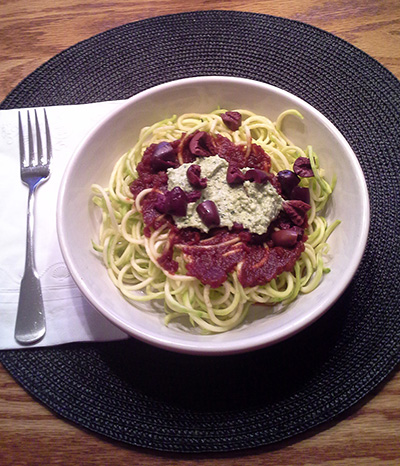 Pesto:
1 cup            Raw Macadamia nuts
1 cup            Fresh Basil
1 clove         Garlic, minced
1 tbsp.          Lemon Juice
1 tbsp.          Cold pressed Olive Oil
1 tsp             Sea Salt
1/4 cup        Water  (More or less for desired texture.)
Put macadamia nuts in a food processor, pulse.  Add the rest of the ingredients and process well.
Marinara:
2 cups           Tomatoes, chopped (I use plum, peel and I take out the seeds)
1 cup             Sun-dried tomatoes, soaked for 1 hour, chopped
½ tsp.           Red pepper flakes (optional)
2                    Dates, peeled, lightly chopped
½ tsp.           Sea Salt
Put all the ingredients in the food processor and process until smooth, or texture you like.
Pasta:
4-6               Medium Zucchini
With a vegetable peeler, peel the zucchini.  Use a spiralizer, if you have one; the zucchini will look like spaghetti.  Or, use the vegetable peeler to shred the zucchini; looks like fettuccini.
Garnish:
12                Kalamata olives, pitted, lightly chopped
Putting together:
Place Zucchini into a large bowl.  Toss well, with the Pesto.  Lightly toss with the Marinara and the Kalamata olives.