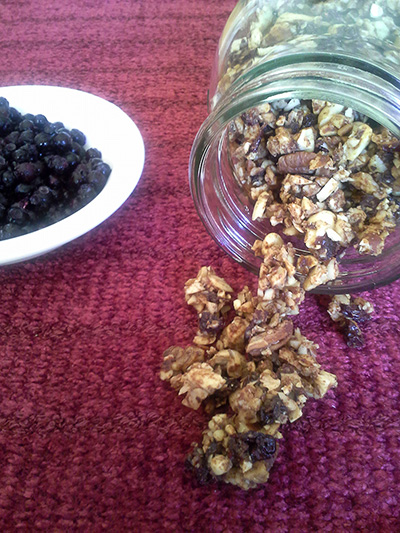 Granola
1 cup   raw almonds, soaked for minimum 4 hours, drained & rinsed *
1 cup   raw cashews, soaked for minimum 4 hours, drained & rinsed
1 cup   raw filberts, soaked for minimum 4 hours, drained & rinsed
1 cup   raw Brazil nuts, soaked for minimum 4 hours, drained & rinsed
1 cup   pecans, soaked for 4 hours, drained & rinsed
1 cup   walnuts, soaked for 4 hours, drained & rinsed
1 cup   organic raisins, rinsed
1 cup   cranberries (organic sweetened in apple juice)
3 tbsp           lemon juice
2 tbsp           vanilla (or non-alcohol vanilla if available)
2 tbsp           cinnamon (more or less taste)
4 tbsp          agave (more or less to taste)
~ Place all nuts and seeds into food processor, chop until crumbly.  Transfer to large bowl.
~ Stir in lemon juice.  Stir in vanilla.
~ Add raisins and cranberries.  (Lightly chop if preferred.)
~ Toss with cinnamon.  Stir in agave or honey.
~ Transfer to dehydrator sheets, lightly press.
~ Dehydrate at 115 degrees for 18 – 24 hours (or until dry).  After 12 hours, flip the mixture.
~ When cool, place in glass jar and enjoy.
~ The Granola keeps for 4 weeks.
* I always peal the skin off of the almonds, after soaked
NOTE:  You can use any combination of nuts and seeds to your liking.