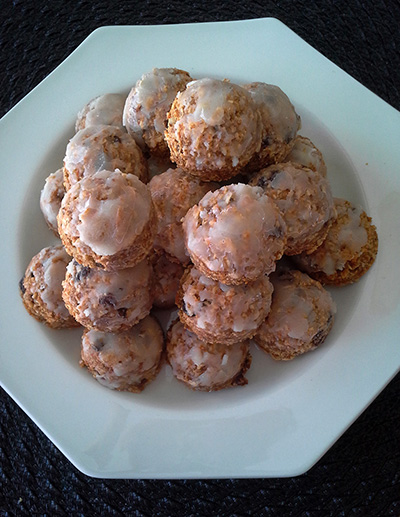 Raw Carrot Coconut Macaroons
Macaroons
1 ½ cup       raw almonds, ground into flour
2 cups         shredded carrots
¼ tsp.          salt
4 tsp.           cinnamon
½ tsp.          ground ginger
½ cup          agave or raw honey
4 cups         finely shredded unsweetened coconut
8                 medjool dates (soaked, peeled and pitted)
½ cup          raw walnut, chopped
Put the almond flour, 1 cup of the shredded carrots, sea salt and spices in the food processor; mix well.  Add the agave and dates; mix well.  Add the coconut, remaining carrots, and walnuts.  Pulse together until blended.
Using a 2-tablespoon cookie scoop; makes approximately 30 cookies.  Place on dehydrator sheets and dehydrate at 115 degrees 8-10 hours… until quite dry on the outside, but moist in the middle.
Frosting
½ cup          coconut butter, softened
1/4 cup       coconut oil, softened
2 tbsp.         agave
Whisk the ingredients together.  Drizzle over the cookies.  Enjoy
(It doesn't really matter if you use all coconut butter or all coconut oil.)
 The cookies freeze really well!