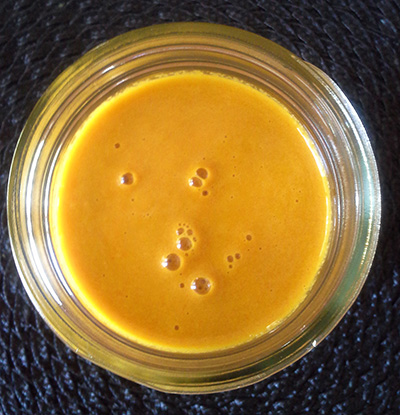 Ginger Carrot Dressing
 1 cup            carrots
½ small         onion or a large shallot
1 tsp.            ground ginger
¼ cup           apple cider vinegar
1 tbsp.          Tamari or Raw Coconut Aminos
¼ cup           water, or more for desired thickness
½ cup           cold pressed olive oil
2 tbsp.           agave
Coarsely chop the carrots. Place them in blender and pulse to chop into small bits.
Coarsely chop the onion or shallot, add to blender.  Add the rest of the ingredients, except the oil; pulse.
With the motor running, drizzle the oil through the opening on top of the blender.  When all the oil is added, blend about 30 seconds.
Refrigerate in a glass jar.  Dressing lasts up to one week.
Makes about 2 cups.  I cut the portions in half.
Use with your favorite green salad.